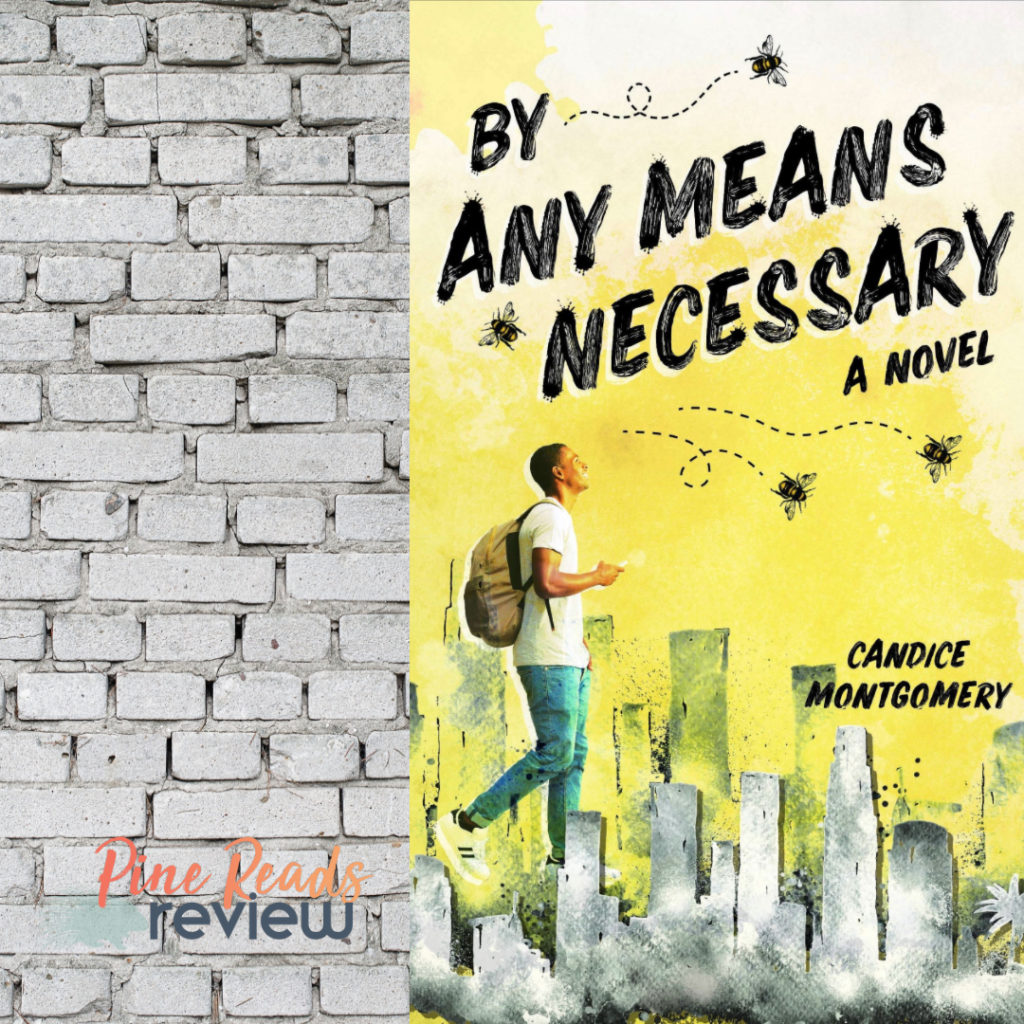 By Any Means Necessary by Candice Montgomery
Page Street Publishing Company, 2019, 320 pages
Trigger warnings: Homophobia, police brutality
About the Author: Candice Montgomery is an LA transplant now residing in Seattle. By night, she writes YA lit about Black teens across all their intersections. By day, she teaches ballet to teen boys and works in the land of sobriety and rehab. It is the goal of her stories to interrogate the spaces of race, love, the body, and sexuality, all while being a witness of life.
"What am I even doing? Everything in my life is falling apart. I swallow repeatedly, hoping I don't choke on my tongue or something and screw that up, too. I'm not ready. I don't know how the hell I made it this far, to a university in a city that isn't the Hills, alone. Who do I even think I am trying to keep my apiary from drowning when I can't even keep my own head above choppy waters?"
As if starting college isn't stressful enough, Torrey McKenzie has only just arrived to his new San Francisco State University dorm room when he learns that his beloved apiary—an inheritance from and extension of his late Uncle Miles—is being seized by the city of Los Angeles after his grandfather has failed to pay its property taxes. Add in the appearance of an estranged old flame, a less-than-ideal family situation, and his desperation to save Miles To Go Apiary on top of being thrown into college life, and Torrey has quite a heaping on his plate. With the love and support of his Aunt Lisa, his new friends and those in his community, Torrey just might have a chance at keeping his apiary up and running.
By Any Means Necessary is a book about found family, friendship, love, and the harrowing impacts of gentrification on members of a community. Written in first person, the reader lives inside Torrey's head for the duration of the book, experiencing his stream-of-consciousness and also being addressed by Torrey himself. He calls out the racist microaggressions that non-POC are guilty of, foreshadows what's going to happen and even makes direct jokes to the reader. The voice is so strong in this novel that it feels like you're friends with Torrey by the time you flip the last page. In fact, the characters are drawn so realistically, it was actually kind of sad to finish the book and realize I'm not really friends with Torrey, Gabe, CAKE and Desh. By Any Means Necessary is a compelling read full of loveable tropes, diverse characters and fierce passion, all while using a critical eye on how gentrification can destroy lives.
PRR Writer and Web Editor, Caroline Ross
Pick up your own copy today!