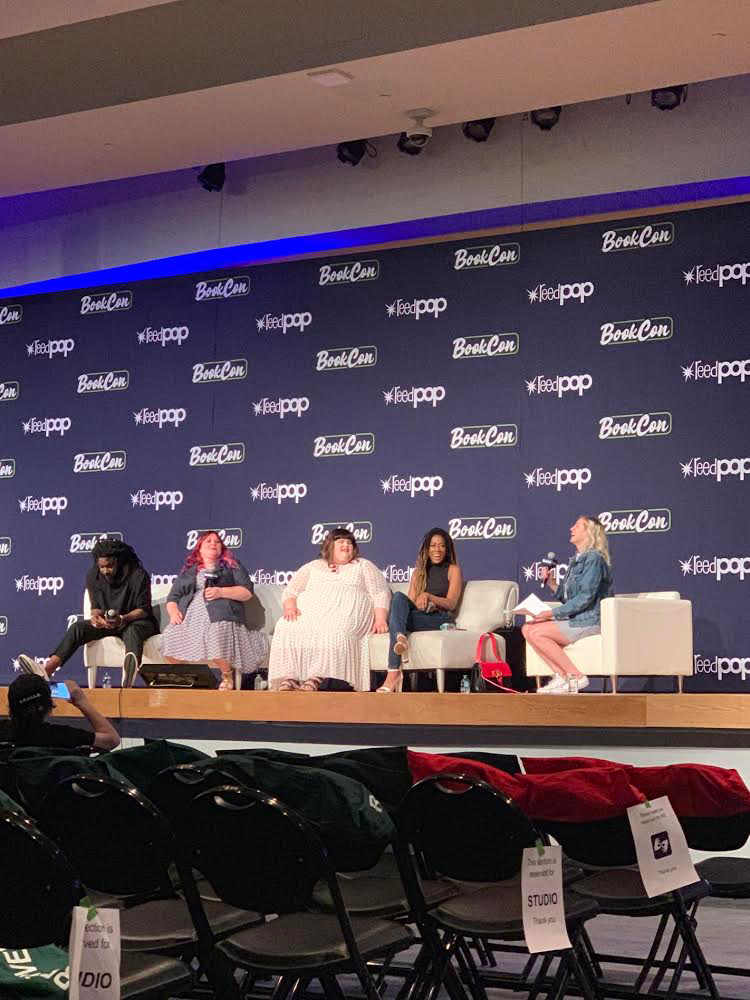 As a book-lover, story-connoisseur, novel-pusher… as a book person, I've wanted to attend BookCon for years. Since first hearing about it on BookTube, I've daydreamed about the panels, the signings, the merch, the ARCs – all of it. The problem? It's usually held in New York or Chicago or… well, somewhere far from Arizona. But this year was different. I was already planning an east coast tour to visit graduate schools, so I made sure to include (okay… plan the whole trip around) the conference.
I had my tickets, t-shirt, notebook, badge. I even had a list of interesting panels. I was ready. The problem? It turns out that while daydreaming about the event, I didn't do much research. I knew it was a fun event for readers and writers… but I had no idea what I was getting myself into. So cut to the night before the big event and you'll see me in an NYC hotel room, phone screen bright, nose stuffed, temperature high, and throat sore. That's when I finally watched the BookCon recommendation videos I had bookmarked months before. That's when I realized that I had missed buying autographing tickets that sold out in 10 minutes last March. When I realized people started lining up outside at 3am. And – oh shoot! – the app really is important. I slowly turned by congested, clogged, sick head (thanks airplane germs) to my mom and knew BookCon wouldn't be such a daydream.
We got to the convention center 8:00 am and made it to the middle of the line, but, I was already a bit overwhelmed. As I had learned the night before, event and signature tickets sell out fast at these booths. Even though I sped-walked (Grandma would have been proud) to the booths, ticket lines were too long, packed with the 3a.m.-ers, to even hope for a ticket. The next 10 minutes were full of chaos and guilt as I tried not to think about my mounting disappointment. This was supposed to be my scene. My people. I am a book person. After taking a moment to collect ourselves, my mom and I decided to just pick a line and stand in it. We weren't sure what it was for or how long it would be… but we had to do something.
So we stood in line. We talked to a book-loving librarian about YA recommendations and the graduate programs I'm considering. By that time, we learned the line was for I Read YA. We were actually the last three who met the four authors (including Maggie Stiefvater) and got signed ARCs. Success!
I was starting to feel good – a bit more composed. After a quick caffeine break, we came back into the showroom, and I turned my congested sick head… and knew this was worth it. Walking across the floor, on her way to the official signing for which I didn't have tickets, was V.E. Schwab.
One of my favorite fantasy authors… wearing cat ears. I was currently reading her YA duology. In fact, I forced myself to only travel with one book on this trip. In fact, it was her book, This Savage Song. And, in fact, it was in my bag on my shoulder. My shoulder that was 12 feet from her. She walked across the room with her publicist walking faster beside her.
I'm normally pretty cool and professional around authors – they're normal people with a profession… but, oh man, I forgot how to book-person. I slowly reached into my bag, spluttering to Mom who she is, and pull out This Savage Song. She saw me and mouthed "one second." My head was now both congested and buzzing, so when she came over, I started rambling about how I love her "other series," because I certainly couldn't remember the name (A Darker Shade of Magic). Apparently she asked for a pen and my name, but I was too busy talking about her stories. My mom – God bless her – pulled out a pen and, talking almost as fast says, "This is Anna! She loves writing and editing –" We say some other things like, "thank you," and "enjoy BookCon" and then her publicist ushered her away, and I was left with a fuzzy head and a very real signed book.
The rest of the day turned out pretty well. I went to The Best in Middle Grade and Epic YA panels. I heard some of my favorite children's authors speak on their books and the industry's need for authentic stories for people and cultures. I got free bags, pins, books. We left and ate New York pizza.
I didn't get to do everything. I didn't prepare well enough for that. But, ultimately, my day was made by the people who find stories inspiring. The New York librarian, V.E. Schwab, Tomi Adeyemi. My day wasn't a dream, but real chaos, passion, and joy – all surrounding books and book people.
PRR Writer, Anna Gerwig