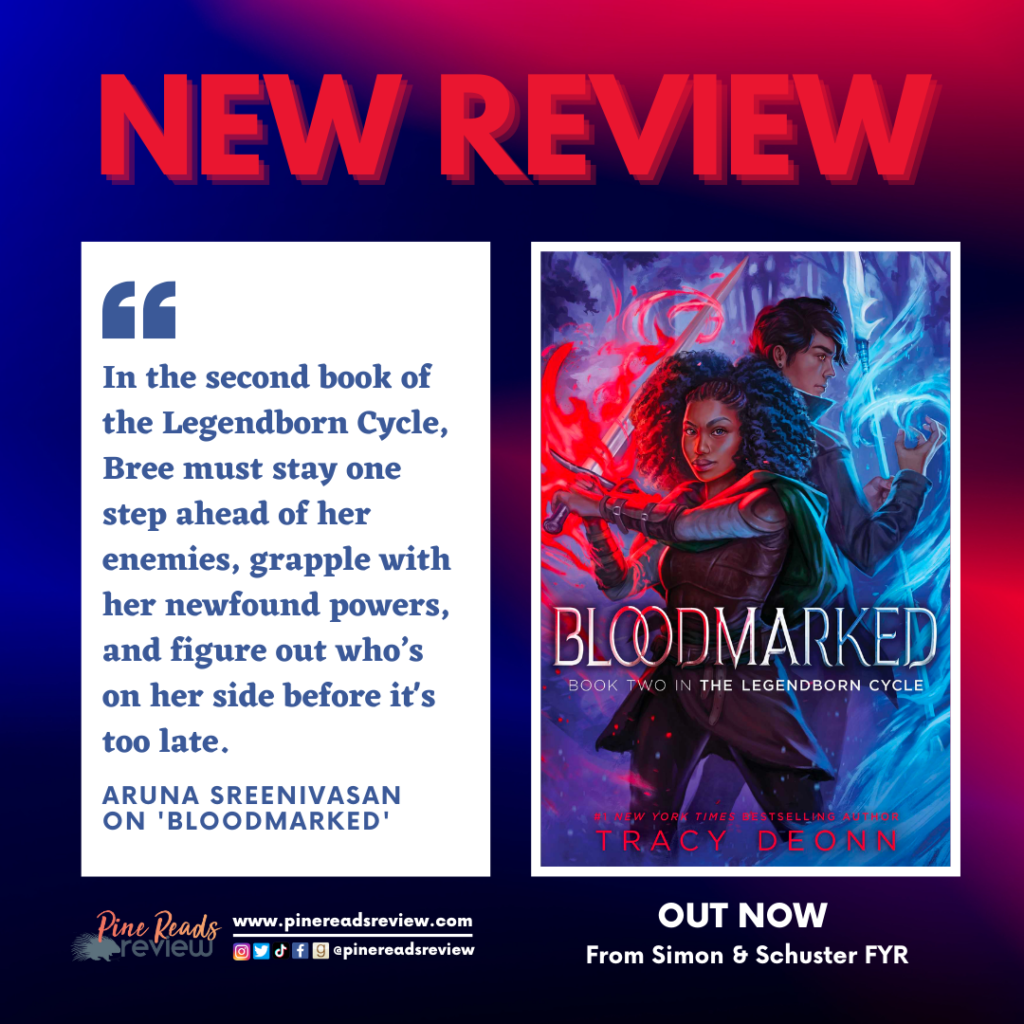 Bloodmarked by Tracy Deonn
Out now from Simon & Schuster Books for Young Readers; 561 pages
Content warnings: racism, loss of a parent, slavery, rape (off-page), character death, car accident, fantasy violence, and gore
About the Author: "Tracy Deonn is the #1 New York Times bestselling and Coretta Scott King-John Steptoe award-winning author of Legendborn and its sequel Bloodmarked. A second-generation fangirl, she grew up in central North Carolina, where she devoured fantasy books and Southern food in equal measure. Tracy is a contributor in the 40th Anniversary The Empire Strikes Back anthology, From a Certain Point of View from Del Rey/Star Wars books. In addition to being a featured expert in the 2019 Star Wars fandom SyFy Channel docu-series Looking for Leia, Tracy was also a co-writer and consulting producer. Her nonfiction essay about growing up Black and geeky, Black Girl, Becoming, was published in the 2018 anthology, Our Stories, Our Voices" (Bio taken from author's website).
Find Tracy Deonn on the following platforms:
---
"You are the point of our arrow." Her voice grows louder with every word. "The tip of our spear. The bow of our ship. The flare of our long-simmering heat. You are the living embodiment of our resistance. The revelation after centuries of hiding. The pain-welded blade. Wound turned weapon."
While unraveling the secrets surrounding her mother's death, Bree Matthews accidentally stumbled upon the Order, a secret society descended from King Arthur's knights, and gained powers that are unique to her maternal bloodline. Now too many people want her dead, including those she thought she could trust. The primordial animosity between demons and the Order is brewing into the beginnings of a devastating war, and while Bree wants nothing more but to fight, the Order won't let her—to have an unknown girl lead their ancient organization is something wholly unfathomable to them. In the second book of the Legendborn Cycle, Bree must stay one step ahead of her enemies, grapple with her newfound powers, and figure out who's on her side before it's too late.
Ever since I read Legendborn last year, I have been dying to read Bloodmarked, and it did not disappoint! Bree continues to dazzle with her determination to fight for what's right and her kindness in the face of the world's cruelty. She's in a love triangle, which is usually the bane of my existence, but this one has me invested—it's so messy and complicated and, despite my steadfast dislike for young adult male love interests, Selwyn Kane has me swooning (I'm Team Sel, if it isn't obvious). I would also be remiss if I didn't praise this story's world-building, as part of the reason why I adore this series is because it refuses to be another modern fantasy dominated by whiteness. The magic system confronts America's, and the Order's, history of racism and violence while also celebrating and uplifting the many ways Black people continue to resist and thrive. Bree herself exemplifies this dichotomy through her own powers, which stem from both the Order and her ancestors. My one and only complaint is that the characters' priorities change constantly, leading to too many side adventures in one book, and thus the main plotline becomes a little muddled.
Still, Bloodmarked is a masterclass in retelling legends of yore—Deonn doesn't shy away from the ugly parts of American history, and she balances themes of grief, racism, and identity in both a sensitive and empowering way. Anyone who loves Arthuriana viewed through a modern and anti-racist lens should absolutely pick up this series. I am most definitely going to tune in for book three!
PRR Community Outreach Lead, Writer, and Editor, Aruna Sreenivasan
---