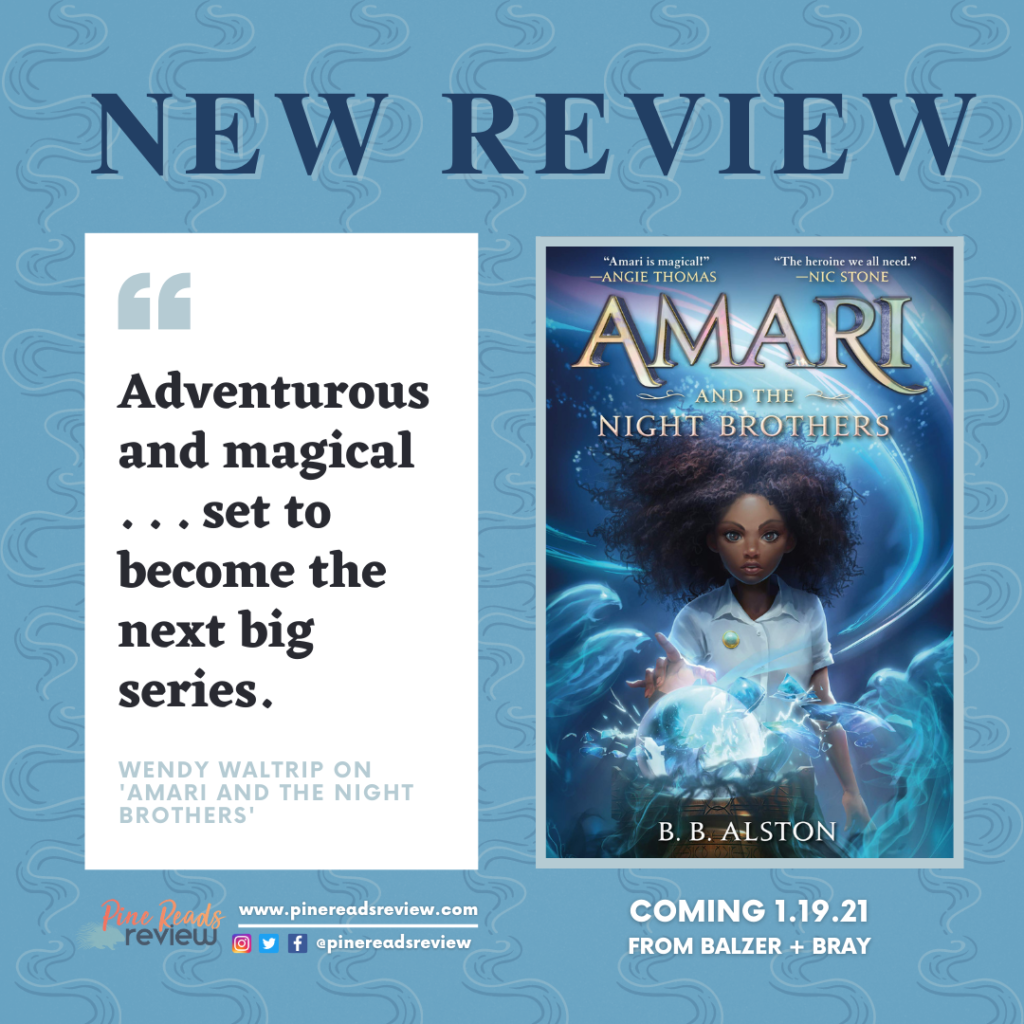 Amari and the Night Brothers by B.B. Alston
Balzer + Bray; Releases January 19, 2021; 416 pages
Content Warnings: Racism, some minor violence, a character in a coma, some intense action scenes, bullying
About the Author: "B.B. Alston started writing in middle school, entertaining his classmates with horror stories starring the whole class where not everyone survived! After several years of trying to break into publishing, he had just been accepted into a biomedical graduate program when a chance entry into a twitter pitch contest led to his signing with The Bent Agency, 20+ book deals worldwide, and even a film deal. When not writing, he can be found eating too many sweets and exploring country roads to see where they lead." (Bio taken from The Bent Agency's website.)
Instagram: @bb_alston
Twitter: @bb_alston
---
"It all feels so unreal. This whole thing is crazy. But what if it is real? What if this is my one chance to find out more about my brother? My one chance to bring him home."
All thirteen-year-old Amari Peters wants is to find her older brother who mysteriously vanished six months ago. Instead, she discovers a ticking briefcase in his closet that contains a nomination to try out for a summer camp at the secretive Bureau of Supernatural Affairs, where her brother apparently worked. Certain that the Bureau has answers about her brother's disappearance, Amari accepts…and is plunged headfirst into the realization that dwarves, yetis, mermaids, and magicians all exist. Competing against kids with much more money and knowledge about the supernatural world than she has, and armed only with an illegal supernatural ability, Amari must tell truth from lies and friend from foe if she wants to pass the tryouts, find her brother, and save the supernatural world from an evil magician with a nefarious plan.
Adventurous and magical with a social justice bent, B.B. Alston's phenomenal new addition to the middle grade genre is set to become the next big series. Amari is a fantastic heroine who has real struggles and doubts, and Alston does not shy away from presenting the prejudices Amari faces. Every choice she makes feels genuine, and I enjoyed exploring the Bureau and solving the mystery of her brother's disappearance alongside her. The other characters are also very real and seemed to jump off the page and into my living room, specifically Amari's roommate Elsie. The magic is inserted seamlessly into the story, and with all the surprising twists and turns, I was kept guessing until the very last page. I can't wait to follow along with Amari's future escapades in the forthcoming books in the series. Fans of magical middle-grade adventures will love this sensational story.
Amari and the Night Brothers releases on January 19, 2021.
(Pine Reads Review would like to thank NetGalley and the publisher for providing us with an ARC in exchange for an honest review. Any quotes are taken from an advanced copy and may be subject to change.)
PRR Writer, Wendy Waltrip