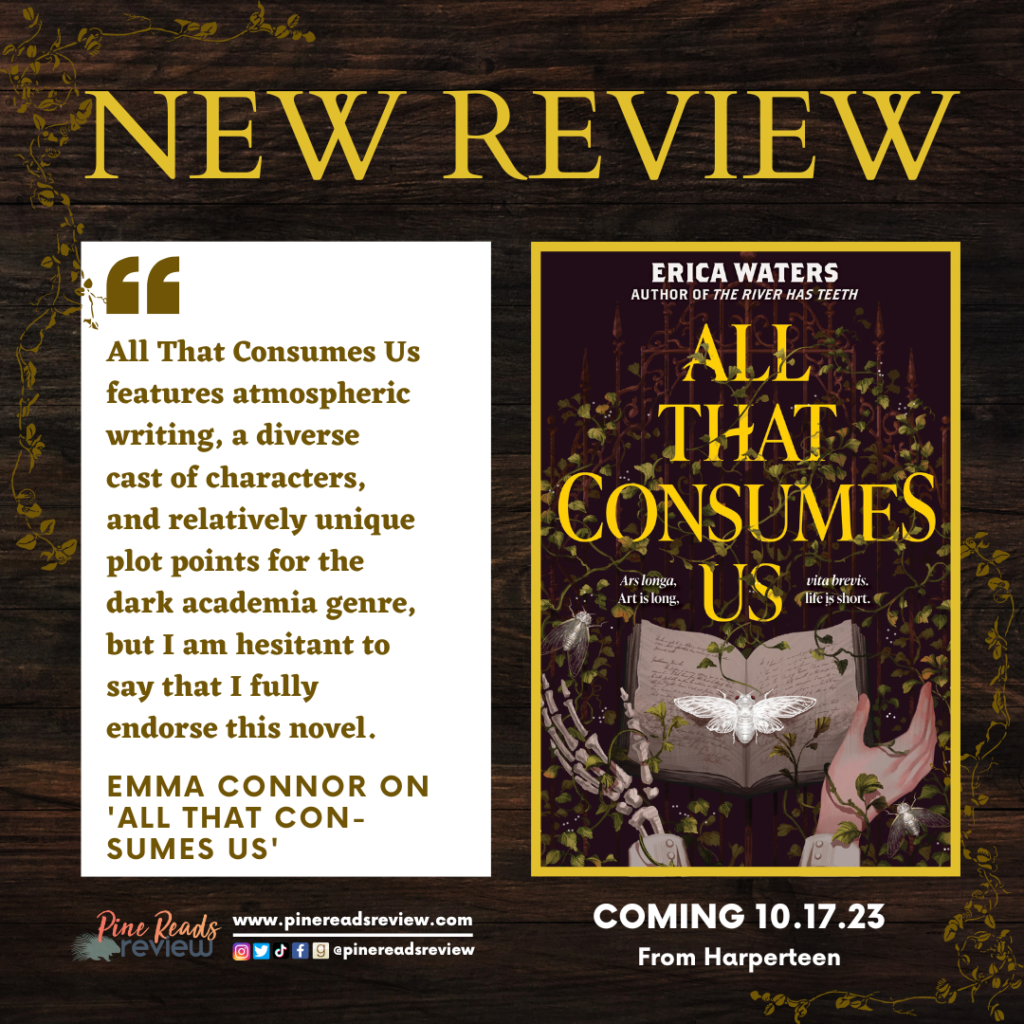 All That Consumes Us by Erica Waters
Coming October 17 from HarperTeen; 416 pages
About the Author: "Erica Waters grew up in the pine woods of rural Florida, though she now resides in Nashville, Tennessee. She has a Master's degree in English and works as a university writing tutor. She writes dark fantasy and horror set in the South. Her second novel, The River Has Teeth, won the Bram Stoker Award for Superior Achievement in a Young Adult Novel and was also an Indie Next pick and a Kirkus Best Young Adult Book of 2021. Erica's other works include Ghost Wood Song and The Restless Dark. She is also a contributor to the bestselling folk horror anthology The Gathering Dark" (Bio from Author's Website).
Find Erica Waters on the following platforms:
---
"But I don't feel like my life is changing. I feel like it's finally beginning. Like all this time I've been waiting for Magni Viri to come calling."
Set deep within the hills of rural Tennessee, All That Consumes Us blends dark academia, Southern Gothic, and a dash of queer romance as protagonist Tara Boone navigates her first year at Corbin College. When a classmate's death opens up a spot in the secretive, highly selective Magni Viri academic society, Tara is surprised to receive an invitation to join, still unsure of her own talents and ability to fit in within the elite organization. Entering a world of free tuition, guaranteed success after graduation, and a strong focus on individual research, Tara's worries begin to fade away, especially after bouts of late-night writing leave her with the start of a gothic novella her professors can't help but praise. As time passes, however, Tara can't help but feel like something is being kept from her by the society: something dark and ancient that first began to manifest through her writing.
All That Consumes Us features atmospheric writing, a diverse cast of characters, and relatively unique plot points for the dark academia genre, but I am hesitant to say that I fully endorse this novel. I found the pacing of the story to be a bit odd: Tara spends half of the text convinced that she is haunted by the classmate who passed away, however, the real truth is revealed suddenly with only little foreshadowing. The narrative rapidly changes direction, and I felt Tara accepted this new truth too quickly. I also felt as if the text had to scramble to explain the intricacies of the Magni Viri at this point, and I was still left with questions about its structuring and creation at the end that may have been answered had Tara uncovered the truth sooner. However, I enjoyed watching Tara's relationships with the Magni Viri members develop prior to her discovery, and I understand how structuring the plot in this way allowed her to spend time enjoying the society before its darkest secrets were uncovered. Especially through her interactions with roommate Wren and love interest Penny, Tara emerges as a deeply caring protagonist that is only hesitant at times due to an upbringing full of hardships. While the ending was a bit predictable, I still found it to be a satisfying conclusion and liked its optimistic tone, which indicated that Tara is still committed to her dream of becoming a writer even after the events she had to endure.
Emma Conner, Pine Reads Review Writer & Website Manager
---