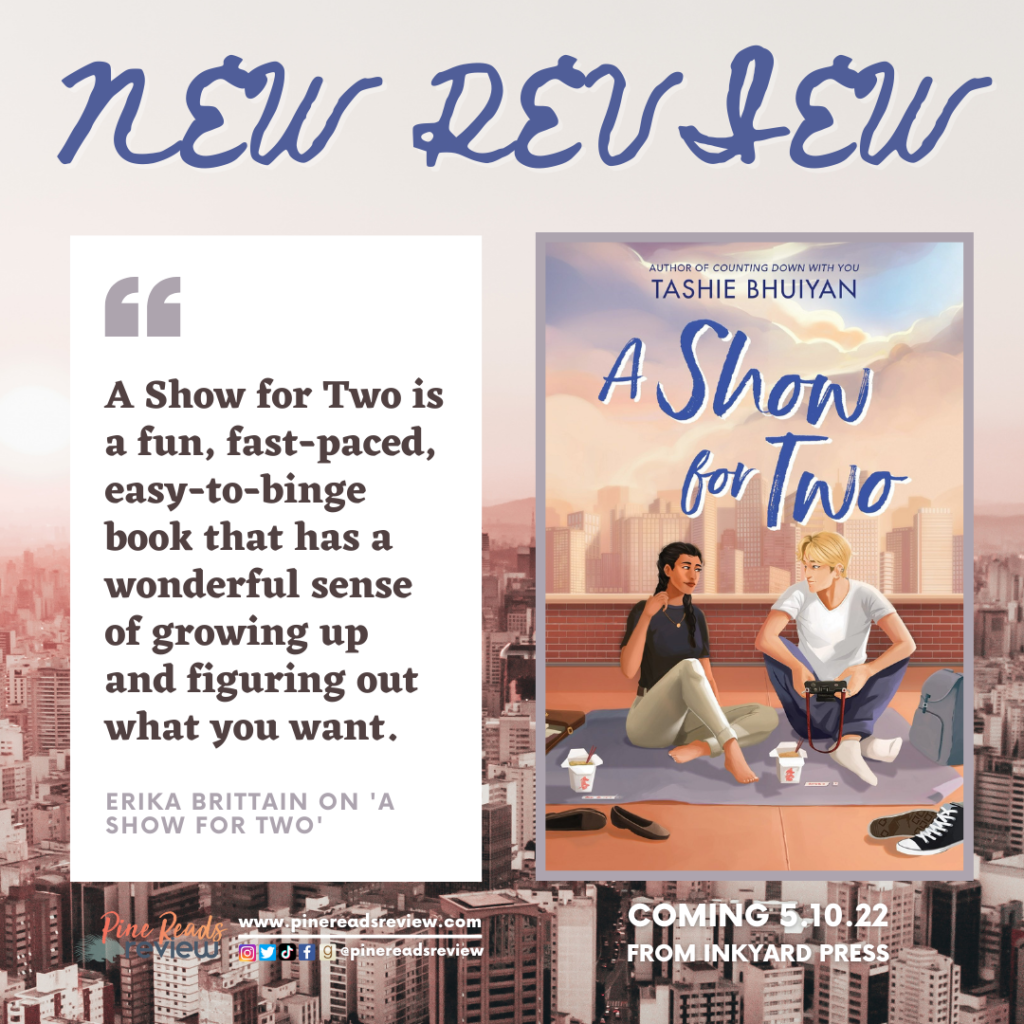 Coming May 10th from Inkyard Press; 416 pages
Content Warning: Strong language, mild sexual content, emotional manipulation by parents, parental verbal abuse, character with depression, minor toxic ex-boyfriend side character
About the author: "Tashie Bhuiyan is the author of Counting Down with You, and a New Yorker through and through. She recently graduated with a bachelor's degree in Public Relations, and hopes to change the world, one book at a time. She loves writing stories about girls with wild hearts, boys who wear rings, and gaining agency through growth. When she's not doing that, she can be found in a Chipotle or bookstore, insisting 2010 is the best year in cinematic history. (Read: Tangled and Inception.)" (Bio taken from author's website.)
Find Tashie Bhuiyan on the following platforms:
---
"Home is where you find love, and I am loved by this city and the people in it more than anything."
High school senior Mina Rahman has two goals: win the Golden Ivy student film competition, and go to California for college. But to win the competition, and get away from her parents, Mina needs a miracle. Enter Emmitt Ramos—an indie movie star undercover at Mina's school for an upcoming role. When a deal is made between the two, a guaranteed win for the film is nearly in sight. Between filming scenes, tour-guiding Emmitt around New York City, and the growing pains of college applications, Mina is forced to confront her real motivations with the competition and college. What does winning really mean for Mina?
A Show for Two is a fun, fast-paced, easy-to-binge book that has a wonderful sense of growing up and figuring out what you want. While the romance between Mina and Emmitt is a major part of the book, I would say the main themes of the story revolve around Mina discovering what home means to her: Home is where you find love. An important note, a significant amount of conflict in this book comes from Mina's abusive and emotionally manipulative parents. Mina's relationship with her parents does not resolve by the end of the book, but that relationship does underscore Mina's growth as a character. Other details I enjoyed include movie references (snaps for Pride and Prejudice (2005) and Howl's Moving Castle) and Taylor Swift mentions (shout out to Cornelia Street!). There are lots of small moments and layers that add a strong sense of realism to the story, such as perspective on Bengali identity and celebrity 'stans' culture. Overall, Tashie Bhuiyan's sophomore novel is definitely one to check out. I look forward to seeing Bhuiyan grow as an author and reading more of her heartfelt stories.
(Pine Reads review would like to thank NetGalley and Inkyard Press for sending us an ARC in exchange for an honest review. Any quotes are taken from an advanced copy and may be subject to change upon final publication.)
---
PRR Writer, Erika Brittain