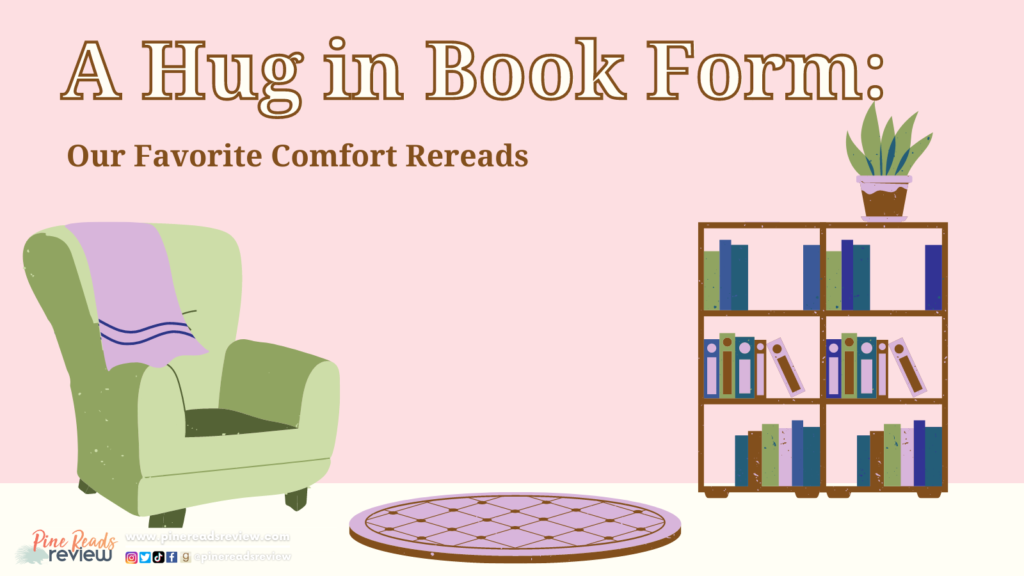 There's no denying that we've all been under a lot of stress these past few years. Between living through a global pandemic and all the unrest and injustices in the world, life has felt pretty heavy. Beyond these collective issues, we all face our own individual trials such as managing heavy workloads, dealing with chronic illness, and even the loss of loved ones. As readers, we at Pine Reads Review believe that books can provide us with comfort during life's most difficult moments. Whether a beloved picture book from childhood or a favorite series that never gets old, sometimes picking up a certain book can feel as comforting as a mug of hot chocolate or a hug from your best friend. Below is a list of some of our staff's favorite books to reread when we need a little comfort.
---
Written by Colin Meloy and Illustrated by Carson Ellis
Balzer + Bray, 2011-2015
When I think of comforting books, this series immediately comes to mind. The books follow middle schoolers Prue and Curtis on their adventures through the Impassable Wilderness (aka "The Wood") located outside of Portland, Oregon. Wildwood is a tale of friendship, political intrigue, and a healthy dose of magic. This isn't your typical forest—it's populated by anthropomorphic woodland creatures and quirky humans. There's so much about this series that I find comforting, like the riveting and complex plots that I can lose myself in with the security of knowing things will work out in the end. I also love the beautiful nature descriptions and cozy details sprinkled throughout. Ellis' whimsical illustrations just seal the deal. This is a story I know I'll return to again and again. 
PRR Writer, Emily Pimental
Written by Susin Nielsen
Wendy Lamb Books, 2015
This is a book that I stumbled upon by chance while browsing at the library, and I'm so glad that I did. We Are All Made of Molecules is told from the dual perspectives of Stewart and Ashley, two teens who are thrust into a newly blended family after his dad and her mom decide to take their relationship to the next level by moving in together. I reread this book every year, usually when I'm feeling overwhelmed and need a little comfort. Stewart and Ashley feel like old friends, and I love watching their growth over the course of the novel. As an added bonus, Nielsen's writing hits the rare sweet spot between heartfelt and hilarious. There's also a cat by the name of Schrodinger involved, in case you weren't already sold. 
PRR Writer, Emily Pimental
Written and Illustrated by Alice Oseman
Graphix, 2020-present 
This series of comics may just be the ultimate comfort read. At its heart (pun totally intended), Heartstopper is an extremely adorable and wholesome love story of main characters Nick and Charlie. While the books tackle some heavier topics, Oseman handles them with the utmost gentleness and respect. I discovered this series early in the pandemic and have read it all the way through three times since then. With all the uncertainty in the world these past few years, watching Nick and Charlie fall in love has been a huge source of comfort and joy for me. Oseman's soft illustration style and the series' pastel color scheme are absolutely delightful. These are also great for getting out of a reading slump since graphic novels tend to be engaging and quick reads. 
PRR Writer, Emily Pimental
---
Written by Mary Pope Osborne and Illustrated by Salvatore Murdocca
Random House, 1992-present 
I love revisiting the Magic Tree House series! Siblings Jack and Annie may seem like two normal children, but when they stumble upon a magic tree house, everything changes. The tree house can take them anywhere in the world to any point in time. These books were so important to me in elementary school, and I still want to go on adventures with Jack and Annie. Whether it's running with dinosaurs, finding buried treasure with pirates, or tracking down Merlin's clues, the Magic Tree House books are always the perfect little pick-me-up!
PRR Writer and Editor, Taylor Quinn
Written by Cassandra Clare
Margaret K. McElderry Books, 2007
Whenever I'm in a reading slump, I always reach for my copy of City of Bones. The Mortal Instruments was the series that first got me into reading. Something about the idea of this invisible world and these angelic fighters living amongst us just out of reach amazed me from the first page! Cassandra Clare has since released several books making up the Shadowhunter Chronicles (and I am eagerly awaiting the next installment), and each one takes the reader on an action-packed adventure alongside the Shadowhunter teens to slay demons and uncover hidden truths. I wish I could explain the hold that City of Bones (and the larger Shadowhunter Chronicles) has on me, but it's impossible! City of Bones has a little something for everyone – vampires, angels, forbidden romance, motorcycles, and warlocks, to name a few details. This book is the perfect fix for any reading slump, and once you're hooked, there are plenty more stories to enjoy after!
PRR Writer and Editor, Taylor Quinn
---
Written by Laura Ingalls Wilder
Harper & Brothers, 1932-1943
My dad read Little House on the Prairie to my sisters and I when we were little, so whenever I see it in a bookstore I feel incredibly nostalgic. My dad has been reading it to my 6-year-old sister, and it's so fun to get to watch her interact with Laura's story.
PRR Writer and Editor, Frances Drye
---
Written by Marissa Meyer
Feiwel & Friends, 2012-2015
I've had a bit of a penchant for the fantastical ever since I was a child. Escaping into another world through a book or movie was always something I found exciting. While there are many books that I've returned to year after year, The Lunar Chronicles is perhaps my favorite of all: a four-book series that follows retellings of classic fairytales with an intergalactic spin. Each book focuses on a different character, while building upon the previous book to create an intricate and complex world full of fascinating stories. This series was first published in the early 2010s, and I still read it over ten years later! If nothing else, I hope that this will encourage prospective readers to pick this one up. The Lunar Chronicles definitely stands the test of time.
PRR Assistant Director, Sophie Applin
---
Written by Joanna Ho and Illustrated by Dung Ho
HarperCollins, 2021
Eyes That Kiss in the Corners is a love letter to Asian eye shapes, framed in a sweet story of a girl seeing the beauty of the eyes she shares with her sister, mother, and grandmother. Joanna Ho's writing is poignant and Dung Ho's illustrations are nothing short of magical. Eyes That Kiss in the Corners is something I never knew I wanted (or needed!) as an Asian-American book lover. Having a book that described my eyes with such care and importance would've been so affirming as a child—I truly wish I had this amazing story when I was growing up. Even though the book was published a year ago, it has become a favorite of mine, and I'll forever consider it a comfort read!
PRR Writer and Web Lead, Erika Brittain
Written by Laura Numeroff and Nate Evans, Illustrated by Tim Bower
Dutton Children's Books, 2003
Sherman Crunchley, a canine police officer, is expected to take over as chief of police when his father retires. The only problem? Sherman doesn't want to be chief, but he just can't say "No"! Growing up, my sister and I LOVED this book. It's not only a fun story with anthropomorphic animal characters, but it also addresses some pretty big issues: dealing with family expectations, having the courage to pursue what you love, and how to say "No" to people. The illustrations are so lively and the characters are drawn with so much personality. The message of the story is also an immense comfort—saying "No" is okay to do!
PRR Writer and Web Lead, Erika Brittain
Written and illustrated by Leo Lionni
Pantheon Books, 1975
Leo Lionni's works are classics, and a favorite of mine is A Color of His Own. The book follows a chameleon who wants to be unique and have his own color. Through his travels, he meets a friend who shows him that changing colors is what makes him unique. A Color of His Own is so simple yet stunning, and Leo Lionni's watercolor art is captivating. The story also has great themes about identity and community. I remember asking my sister to read it aloud, and I would study the little chameleon. This book was a reminder to appreciate who I am and how I'm made. It's a story that will always fill me with warmth.
PRR Writer and Web Lead, Erika Brittain
---
PRR Writer, Emily Pimental; with titles and quotes from our entire staff