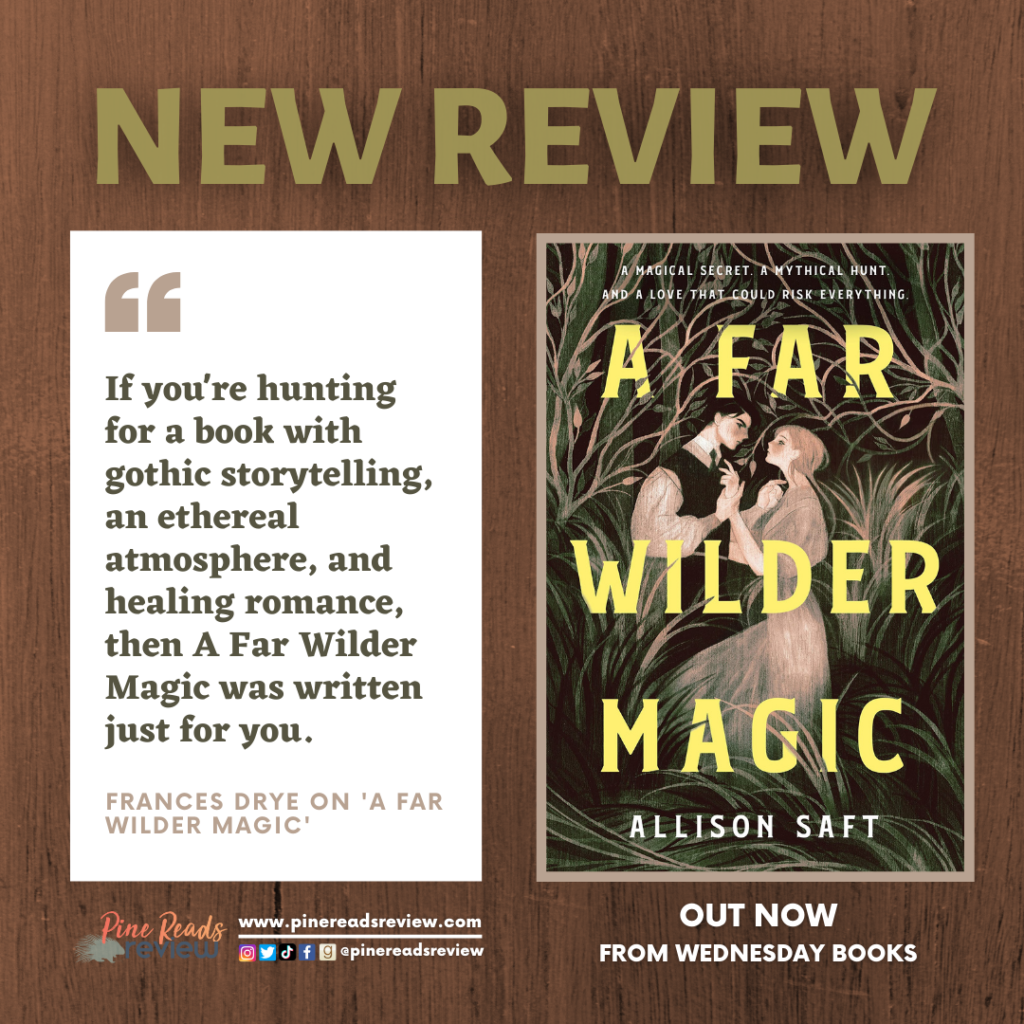 A Far Wilder Magic by Allison Saft
Out Now from Wednesday Books; 384 pages
Content Warning: Animal death, blood, religious bigotry, sexual content, ableism, death of a parent, child death, gore
About the Author: "Allison Saft is the author of eerie and critically acclaimed romantic fantasies, Down Comes the Night and A Far Wilder Magic. After receiving her MA in English Literature from Tulane University, she moved from the Gulf Coast to the West Coast, where she spends her time hiking the redwoods and practicing aerial silks." (Bio taken from author's website.)
Find Allison Saft on the following platforms:
---
"The more dangerous the monster, the more glorious the hero who slays it."
For sharpshooter Margaret Welty, life has not been kind. Since her alchemist mother has been absent for months, Maggie is all alone in their decrepit manor. When the last surviving hala, a mythical creature, arrives in the woods of Maggie's tiny town, Wickdon, the subsequent Halfmoon Hunt promises her a chance at changing her life. Suddenly, Maggie has the opportunity to unlock the magic, fame, and riches that come with killing the hala—all she needs is a partner. Her prayer is answered when Weston Winters, a down-on-his-luck alchemist, shows up looking for an internship with Maggie's absentee mother. The two partner up to win the Halfmoon Hunt, but they discover that the answer to their problems might not be catching the hala—it may lie somewhere else. They just have to survive long enough to find it.
Although A Far Wilder Magic's stunning cover may have been what drew me in, Allison Saft's stoic female protagonist kept me reading through the night. Margaret Welty is a melancholic young woman who has experienced deep loss, but she is not a character who gives up.
Saft introduces another side of Maggie when she meets Wes, and there is a beautiful feeling of hopefulness that these two characters bring out in one another. Their friendship (and blossoming romance) allows them to find a home in one another. Maggie really develops as a character and softens her hard edge. Nevertheless, she remains the strong, self-sufficient young woman that spoke to me when I started reading the novel. If you're hunting for a book with gothic storytelling, an ethereal atmosphere, and healing romance, then A Far Wilder Magic was written just for you. 
PRR Writer Frances Drye
---