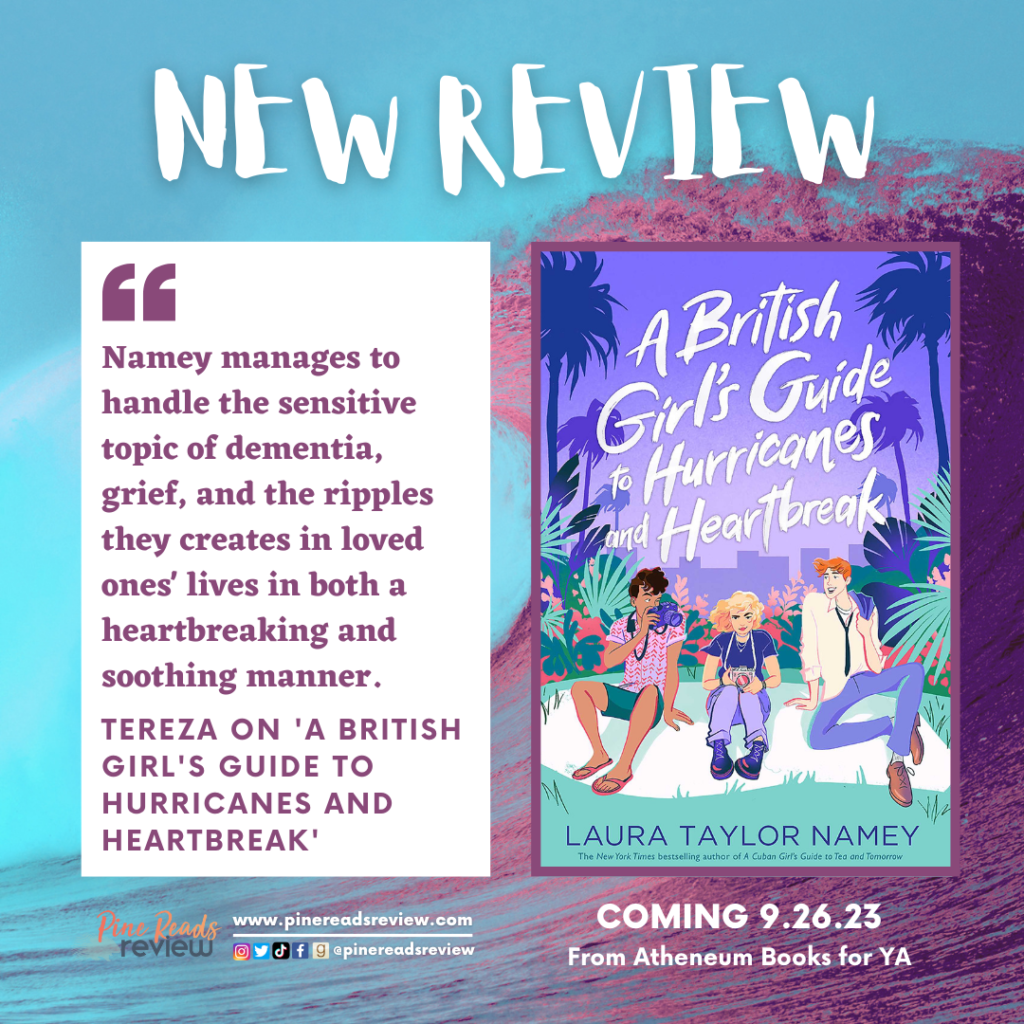 A British Girl's Guide to Hurricanes and Heartbreak by Laura Taylor Namey
Coming September 26 from Atheneum Books for Young Readers; 320 pages
Content Warning: Parental death, dementia, grief
About the Author: "Laura Taylor Namey is the New York Times and international bestselling author of Reese's Book Club pick A Cuban Girl's Guide to Tea and Tomorrow, The Library of Lost Things, When We Were Them, and two forthcoming titles. A proud Cuban-American, she can be found hunting for vintage treasures and wishing she was in London or Paris. She lives in San Diego with her husband and two children.
This former teacher writes young adult novels featuring quirky teens learning to navigate life and love. She holds a BA in Elementary Education from the University of San Diego and is the winner of the Peggy Miller Award for excellence in young adult fiction" (Bio taken from Author's Website).
Find Laura Taylor Namey on the following platforms:
---
"She's a hurricane, my family said. Good, because Miami knows what to do with those."
Flora Maxwell has her world turned upside down after her mother's death. Winchester, England no longer feels like the home she once loved. Despite the familial pressure to go to a university in order to take a more prominent role in her family's tea-shop business, Flora feels herself needing to break away. Labeled as a "hurricane" by her family, she decides to run off to Miami, Florida without a word to her family. Flora hopes to use this time away to figure out what she wants to do with her life and handle her grief. With photography being her only comfort, she finds her time in Miami will lead her into a whirlwind of events; from being caught up in photography influencer Baz Marín's world to suddenly seeing her best friend Gordan Wallace, an aspiring architect, in a different light. Will Flora find her way through the hurricane and heartbreak that is her life?
A British Girl's Guide to Hurricanes and Heartbreak is an enthralling young adult novel that explores grief, romance, and family in such an intricate way. Namey manages to handle the sensitive topic of dementia, grief, and the ripples they create in loved ones' lives in both a heartbreaking and soothing manner. Reading Flora tackle the fallout of her mother's dementia/death and seeing her grow from being a "hurricane of pain" to a hopeful young woman was very gratifying. I found myself drawn to Flora and how she saw the world, which the author illustrated through photography metaphors. While the romance and humor were something that made reading the book enjoyable, I really loved seeing the family dynamics come to play. The way Namey incorporated Cuban tight-knit family culture through the Reyes family in contrast to the Maxwell's really helped to hone in the emphasis on love and community. If readers take one thing away from this book, it's the fact that no matter how alone or isolated you feel, you will always find people that care and love you!
PRR Writer, Tereza Rascon
---