Emily Jenkins is a well-known children's/young adult author who is better known by the pen name E. Lockhart. She is most commonly recognized for her novels, We Were Liars and the Ruby Oliver quartet: The Boyfriend List, The Boy Book, The Treasure Map of Boys, and Real Live Boyfriends.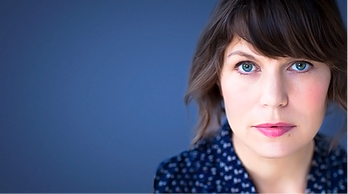 Emily attended Vassar College and continued her education at Columbia University to complete her doctorate in English literature. She currently resides in New York.
You can learn more about E. Lockhart by visiting her website atemilylockhart.com or by following her on Twitter at @elockhart.

Sarah Devaney: What was your inspiration for Genuine Fraud?
E. Lockhhart: Superhero origin stories, tales of desperately ambitious and furiously unhappy women, Victorian orphan novels, The Talented Mr. Ripley by Patricia Highsmith, antihero movies like Taxi Driver and Looper – and the desire to write a thriller. I love a good thriller.

SD: Do you think one must strongly feel emotions in order to be a successful writer?
EL: You have to be willing to make yourself vulnerable.

SD: What was your favorite novel to write?
EL: Genuine Fraud is told backwards. I had a great time laying out a complicated plot and then flipping it so that it goes in reverse.

SD: When you write, do you attempt to cater to what you think your readers want?
EL: No. I do try to write a satisfying tale. I want to entertain, but I don't think that's done best by catering to anyone. If everyone likes you, you're probably a liar.

SD: Both Genuine Fraud and We Were Liars have unreliable narrators. Is there a particular reason for this?
EL: Genuine Fraud is in third person. The narrator never lies to the reader, but does phrase things in delicate ways so that the truth can be fully revealed later. We Were Liars is first person, and the narrator tells the reader everything she knows as she knows it. People call her unreliable, but what she has is an unreliable memory, which she tells you right from the beginning. I never want my readers to feel cheated.

SD: What is the most difficult thing about writing for characters of the opposite sex?
EL: Any time I'm writing a major character who's different from me—because of gender, race, religion, economic status, ability, class, age—I look for ways I can put my heart into that character. I acknowledge the difference, and do research if necessary, or ask for critiques, but I always see how much of myself can go into what drives the person.

SD: You got the inspiration for the privately owned island off the coast of Massachusetts in We Were Liars from Martha's Vineyard, a place you frequented while growing up. While visiting there when you were little, did you ever image you would one day write a novel influenced by the landscape in Chilmark?
EL: The major thing I did with my brain when I was little was imagine novels I would one day write.

SD: Have you read anything that made you think differently about fiction?
EL: I read Big Magic by Elizabeth Gilbert recently. I like her theory that ideas are out in the universe, not specific to any one person's brain. What you have to do, she says, is make a nice home for the idea and convince it to lodge with you and let you make it your own. You do that by working on it.

SD: Genuine Fraud challenges preconceived notions about identity. Is there anything in particular you wanted the reader to take away from the novel in regards to the way we think about identity?
EL: I don't think identity is fixed; we are different selves in different contexts and at different ages. We might label ourselves any number of conflicting ways. We appear in a multiplicity of ways, even to our own eyes. I am, for example, a highly authoritative and semi-frightening lecturer, sometimes. And a nervous, needy cuddler of cats at others. I am terribly ugly and extremely good-looking. I am frightened to make phone calls and unafraid to speak up for myself.

Author, Sarah Devaney