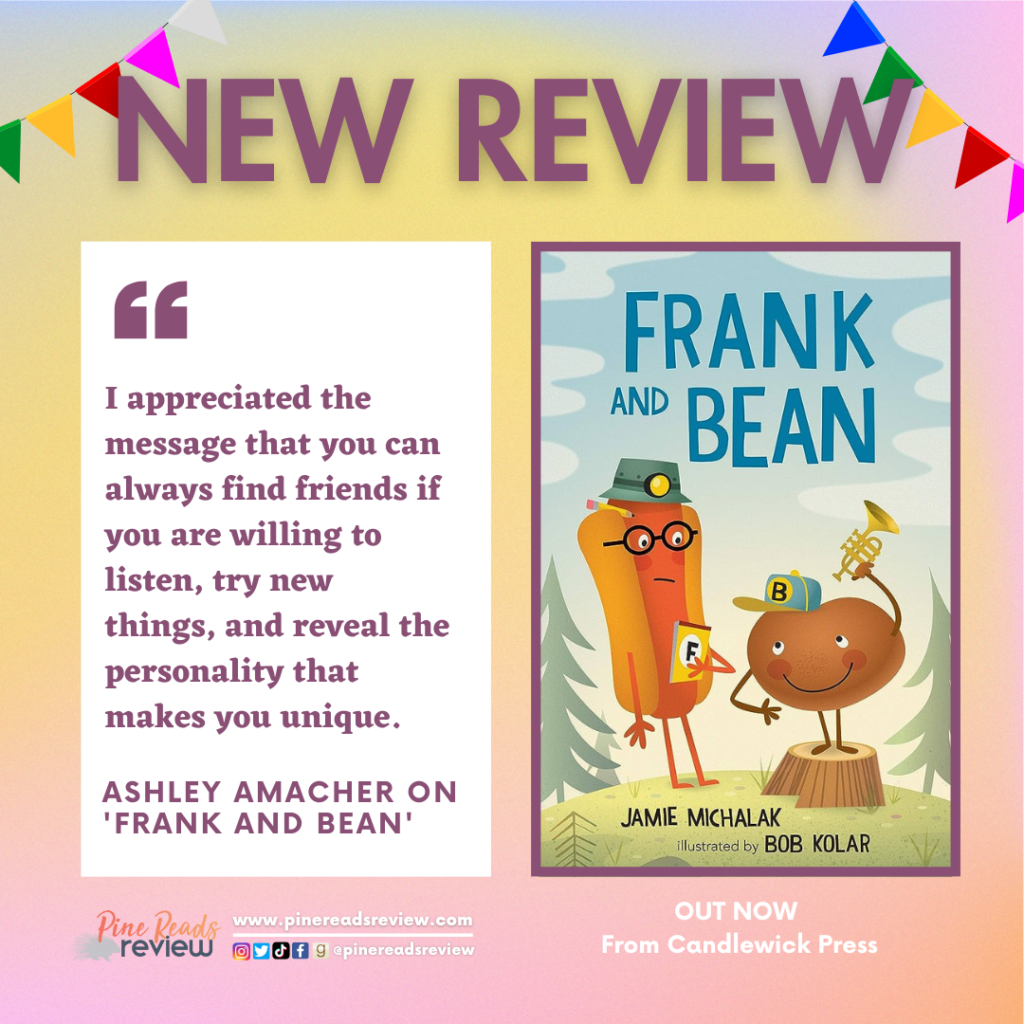 Frank and Bean written by Jamie Michalak and illustrated by Bob Kolar
Out Now from Candlewick Press; 48 pages
About the Author: "Jamie Michalak is a former editor and the author of many children's books. Her titles include the multiple-star reviewed Niki Nakayama: A Chef's Tale in 13 Bites, co-written with Debbi Michiko Florence and illustrated by Yuko Kato-Jones; Dakota Crumb: Tiny Treasure Hunter and Dakota Crumb and the Secret Bookshop: A Tiny Treasure Hunt, illustrated by Kelly Murphy; the Frank and Bean early reader series, illustrated by Bob Kolar; the Joe and Sparky early readers series, illustrated by Frank Remkiewicz; and Come On In: There's a Party in This Book!, illustrated by Sabine Timm. Jamie is also the author of many movie and TV show adaptations.
When not writing, she can often be found singing off-key, drinking too much coffee, or hanging out with her two sons. Jamie was born in Springfield, Massachusetts and now resides with her family in Barrington, Rhode Island" (Bio from the author's website).
Find Jamie Michalak on the following platforms:
About the Illustrator: "Hello, I'm Bob. My job is to make fun stuff for kids. I start out with stories, and they usually turn into books, sometimes toys, occasionally a TV show. I grew up in a little town outside of Cleveland called Grafton, Ohio. I studied at Columbus College of Art & Design and Syracuse University. I came to Kansas City to work at Hallmark Cards. I had a great time and a wonderful career at Hallmark, but the time came for me to have another adventure. So, here I am" (Bio from the illustrator's website).
Find Bob Kolar on the following platforms:
---
"The words are already inside you. But you are too loud to hear them."
Frank is accustomed to flying solo. The grouchy little hotdog explores nature, jotting down words in his secret notebook and shushing the animals that disrupt his silent appreciation of the forest. To Frank's surprise, his lifestyle changes when he meets Bean, who turns up the volume with his one-man band. The loud little bean drives Frank crazy, but he can't seem to shake him. Bean eventually ropes Frank into his mission of finding words to write a song for his musical act. After Bean convinces Frank to step out of his comfort zone, will Frank find the courage to open himself up and share the contents of his secret notebook with his newfound friend?
I was hooked by the fun food-based title, but the detailed illustrations are what stand out in this picture book. The art style is welcoming, and the colors set the lively tone of the story. The dynamic facial expressions of the characters help construct their personalities. Bean's bus has a cute sign that reads "BEAN the MUSICAL FRUIT," a fun play on beans as "the magical fruit." I adored Frank's notebook labeled with an "F" and Bean's hat featuring a "B." The grumpy/sunshine dynamic of the central characters, which was reminiscent of Shrek and Donkey, allowed them to complement each other while finding common ground. Since Frank is so guarded, personal information is revealed to the readers at the same time as Bean, which encourages curiosity. I also found Frank's fear of rejection and embarrassment when showing his creative side relatable. However, I found the written portion of the book underwhelming. The dialogue is a little clunky and unnatural, which is especially disappointing in a dialogue-based story. I was also confused about why the main characters were personified food because there are several scenes in the book that revolve around eating. Furthermore, despite the emphasis on onomatopoeia, the foods that they eat don't make noise when eaten. The author could have substituted louder foods to make the scenes more effective. Overall though, I appreciated the message that you can always find friends if you are willing to listen, try new things, and reveal the personality that makes you unique.
PRR Assistant Director, Ashley Amacher
---